Different types of tofu pudding in Chongqing
2022-12-13 14:08:29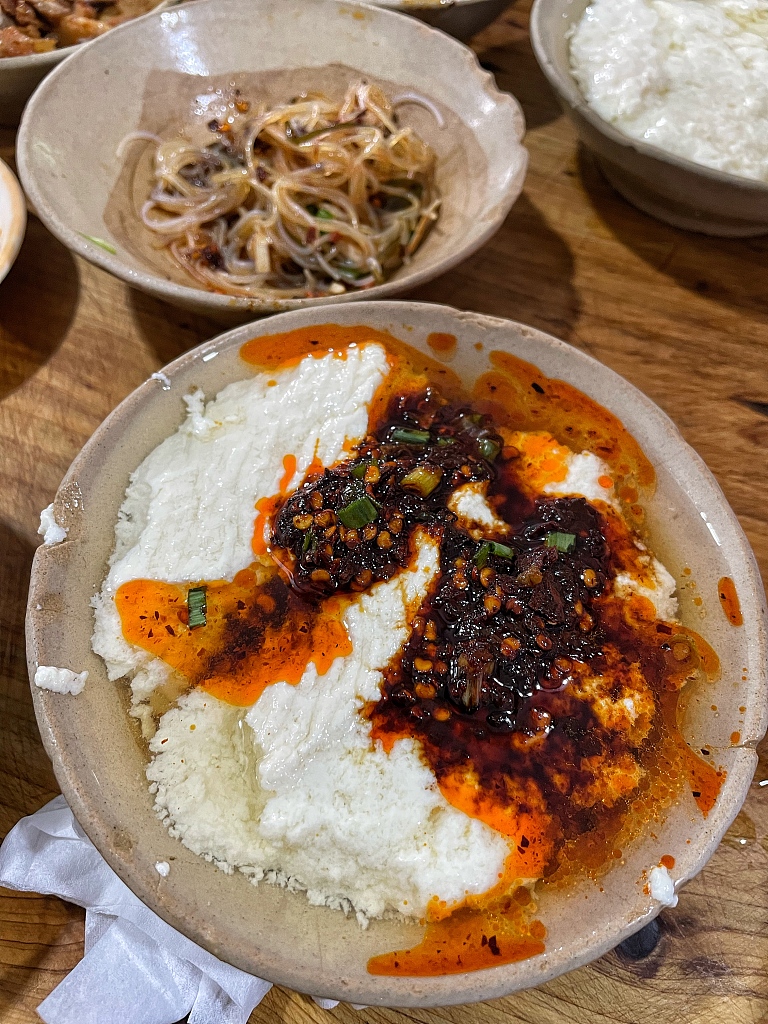 CHONGQING (CQNEWS) -- Tofu pudding or doufuhua, the semi-finished product in the production of tofu, is a traditional delicacy in Chongqing. Different from tofu curb and tofu, tofu pudding tastes very soft and tender. The fresh pudding tofu served with spicy sauces and a bowl of rice is one of the favorite homemade dishes of the Chongqing people. In addition to the soybeans as the indispensable raw material, the water used in the production of tofu pudding will also affect the taste of it. The abundant water resources of Chongqing not only make the soil rich for the plantation of soybean but also provides a high-quality water source for the production of delicious tofu pudding with unique Chongqing characteristics.
We advise you to follow the Map of Chongqing Tofu Pudding made by the Chongqing Bureau of Planning and Natural Resources and Chongqing Geographic Information and Remote Sensing Application Center and try the special tofu pudding around Chongqing.
Dianjiang tofu pudding made with a stone mill
With the use of traditional tofu-making techniques and Dianjiang's native soybeans as the main ingredient, Dianjiang tofu pudding is made with a stone mill, which is as white as snow and as soft as a marshmallow. Its refreshing and smooth texture brings a long aftertaste. The techniques of making Dianjiang stone-milled pudding tofu were included in the sixth batch of Chongqing municipal intangible cultural heritage representative projects in 2019.
Fuling tofu pudding made of river water
Historically, Fuling tofu pudding was made of river water, which is tastier than that made of well water or pond water. Although river water is no longer used to make this dessert today, the name "river water tofu pudding" has been handed down to this very day. The carefully made tofu pudding tastes tender and soft and does not crumble very easily. When served with refined spices, it can be turned into something extremely delicious and impressive that matches sweet tastes and savory tastes.
Luoqi "Floating on Water" tofu pudding
The "Floating on Water" tofu pudding, named after its ability to float on the water, originates from Luoqi in Yubei. The "floating on water" tofu pudding made of green beans in a porcelain bowl, shows a fresh light green color. It tastes extremely soft and refreshing, and its fluffy and melting texture will impress you.
Jiangbei tofu pudding made of soybeans
Jiangbei tofu pudding made of soybeans comes from Yuzui Town and is named after the maker's surname Huang. The technique of making Jiangbei soybean tofu pudding has been handed down from generation to generation. When having a bowl of tofu pudding you will find the pudding does not crumble easily and the soup is very clear. Jiangbei tofu pudding made of soybeans is famous for its snow-white color, soft and tender texture, and lasting and refreshing taste.
Yushan chicken tofu pudding
Legend has it that Yushan chicken tofu pudding was first created in the Tang Dynasty, which is made of minced pork, cooked ham, and chicken soup. The texture is smooth and tender. With clear soup and tender white meat, chicken tofu pudding is extremely delicious. It is called chicken tofu pudding because it looks like tofu pudding, and it is amazing that "You are taking chicken but you can't see the chicken. With a light and sweet taste, Yushan chicken tofu pudding is suitable for all ages and very popular among people. (Translated by Cai Xinyu, Fathom Language Limited)
Editor:Jiang Yiwei