Chongqing News
Four giant pandas in Chongqing Zoo go viral on the Internet
2023-03-16 11:57:36
CHONGQING (CQNEWS) -- The adorable giant pandas in Chongqing Zoo went viral on the Internet again! The weather in Chongqing is sunny recently, and the giant pandas have enjoyed the warm spring sun outside their rooms.
The four giant pandas assembled in Chongqing Zoo have become one of the most searched topics on social media. In the clip that went viral online, four giant pandas were sitting around a table, as if they were ready for mahjong. What a comical scene!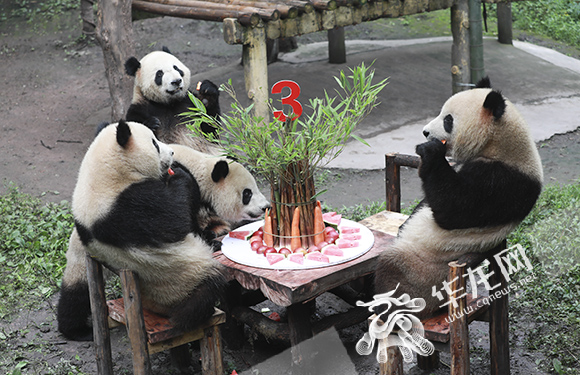 According to Chongqing Zoo, these four pandas are Shuang Shuang, Chong Chong, Xi Xi, and Qing Qing, two pairs of twins born on June 23, 2019. As they live in the same dormitory, they often play together and they are already close friends.
It's learned that Chongqing Zoo, in which 21 giant pandas are living, is currently the urban zoo with the largest number of giant pandas. There have been 45 newborn baby pandas in Chongqing Zoo, including 13 pairs of twins and one triplet. (Translated by Yuki, Fathom Language Limited)
Editor:Jiang Yiwei