Food
The third China • Chongqing Xiaomian culture festival kicks off
2023-03-17 10:40:02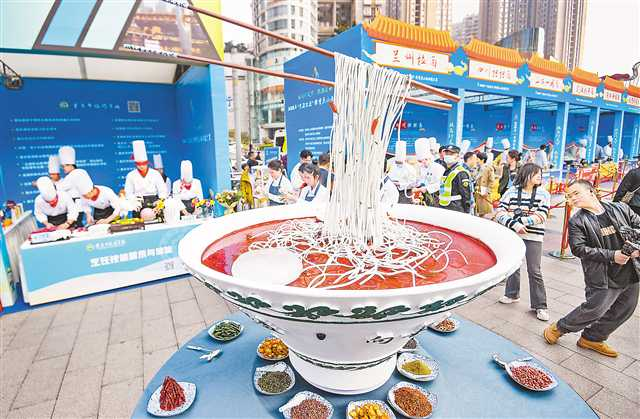 CHONGQING (CQNEWS) -- See you at Dadukou, Chongqing Xiaomian (noodles)! On March 15, the third China-Chongqing Xiaomian Culture Festival, themed "Chongqing Xiaomian • Travel the World with Noodles", opened in Dadukou District. The "Ten Thousand People Eating Noodles" experience activity was launched at the scene. Bowls of steaming noodles were delivered to the public at the scene. They shouted "Spicy and Delicious" and "Fantastic"!
The brand IP image of "Chongqing Xiaomian • Made in Chongqing" – "Chongqing Noodle Man" was also released. With red as the main theme, "Chongqing Noodle Man" used traditional cultural clothing, integrates pepper, pepper and other essential elements of Chongqing Xiaomian, and created a visual impact of Chongqing Xiaomian "Hot and Spicy, Full of Vigor", indicating the development trend of Chongqing Xiaomian Industry "Breaking the Waves and Moving Forward Vigorously". In the future, as long as there is a place where "Chongqing Noodle Man" appears, there will be Chongqing Xiaomian made by Chongqing people themselves.
It is worth mentioning that this Chongqing Xiaomian Cultural Festival also launched online activities focusing on the Chongqing Xiaomian E-commerce Live Festival. ICBC and other financial institutions will successively carry out the "One Yuan Noodle" experience activity, and many Xiaomian enterprises will also carry out the "Chongqing Xiaomian Cultural Festival" special promotional activities on Taobao, Tmall, Tiktok and other platforms.
It is understood that Dadukou District has carried the banner of "Chongqing Xiaomian • Made in Chongqing" industrial development since 2021, and included Chongqing Xiaomian in the five major ten-billion-level industrial plans of the region to focus on building. In 2022, the region's fast-moving consumer goods industry, led by Chongqing Xiaomian, achieved revenue of 2.43 billion yuan, an increase of 47.3% year-on-year.
The person in charge of Dadukou District said that the Chongqing Xiaomian Industrial Park in Dadukou is currently under construction in full swing, with a total planned land area of about 200 mu (13.3 hectares). The phase I is expected to meet the completion acceptance conditions in March this year. (Translated by Wang Zhong, Fathom Language Limited)
Editor:Jiang Yiwei