Chongqing News
Let's enjoy the stunning sunset in these places of Chongqing!
2023-05-17 14:13:31
CHONGQING (CQNEWS) -- Embraced by mountains and rivers, Chongqing boasts magnificent sunsets different from those on the seaside and plains, as the unique terrain of the mountainous city adds a layering effect to the scenes of sunsets. Here we recommend for you some places in Chongqing which are blessed with memorable sunsets!
Light of Copper (Tong Yuan Zhi Guang)
Built on mountains, the Light of Copper is a viewing platform popular for its circular suspended footbridge and stunning river views. It gives a wide view of heavy traffic on the Sujiaba interchange, the magnificent cross-river Caiyuanba Bridge, and rows of high-rises in the Yuzhong peninsula...
Transport: Take CRT Line 3, get off at Tongyuanju Station, walk up to the Tianqi Bridge, and then walk up from the footpath next to the tunnel.
Nanshan Qingshuixi Sports Park
Nanshan Qingshuixi Sports Park is an ideal place to watch sunsets. The dazzling skyscrapers and rolling green hills form a multi-dimensional picture, and the constant streams of traffic reflect the real-life image of Chongqing residents.
If you prefer a restful sunset, you can visit the nearby "Wilderness Tea Stall", which serves tea and snacks and allows you to enjoy a gorgeous sunset with your friends. Watching the skies set ablaze, you pick up your camera to catch this beautiful moment of your own. How romantic it is!
Transport: Search "Nanshan Qingshuixi Sports Park" on your digital map (tourists are advised to park their cars near Shangxin Street)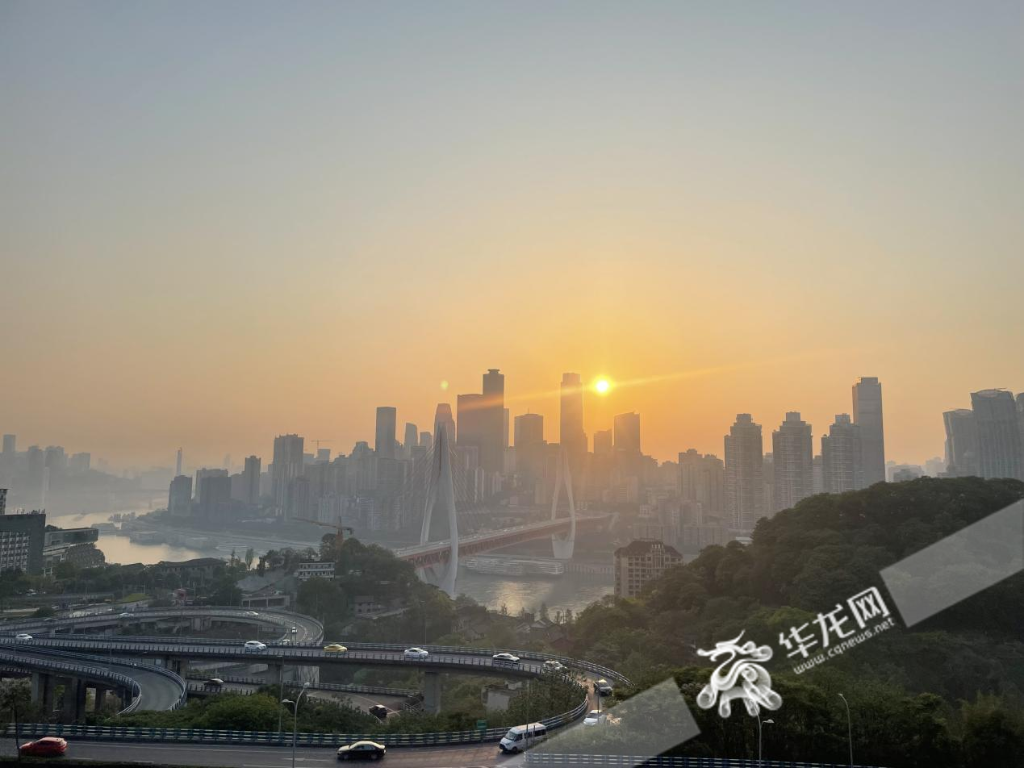 Kansheng Pavilion in Eling Park
With rich cultural and historical resources and landscape aesthetics, Enling Park offers delightful scenery all year round. It is one of the best places for river views and night scenery. The highest place in Eling Park is the Kansheng Pavilion.
Standing on the Kansheng Pavilion, you can see that the setting sun casts an orange glow over the sky and mountains, and the river glows red under the twilight... As the sun merges into darkness, the lights twinkle in the city.
Transport: Take CRT Line 1 and get off at Eling Station
Beibei Jinyun Mountain
If you prefer to view sunsets in the hills, Beibei Jinyun Mountain is a good choice.
Covered in lush green vegetation, Jinyun Mountain offers a secluded environment and a stunning view of sunsets and a sea of clouds. It's a good place to enjoy the natural beauty and start a journey of discovery.
Standing on the peak, you will have a wonderful view of the city in the sunset. The glowing clouds grow slowly scarlet, bright red, and then light red, making you feel calm and relaxed.
Transport: Search "Jinyun Mountain Scenic Area, No. 27, Jinyun Road, Beibei District, Chongqing Municipal" on your digital map
(Translated by Yuki, Fathom Language Limited)
Editor:Jiang Yiwei