Photo News
The first Chinese scripted entertainment carnival kick off in Chongqing
2023-05-24 11:55:43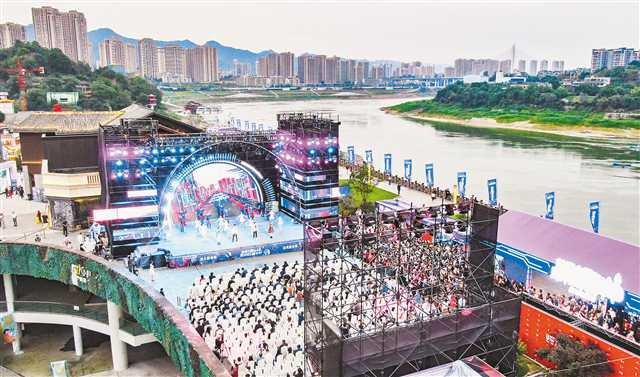 CHONGQING (CQNEWS) -- On May 22, the First China Scripted Entertainment Carnival kicked off in Guofu Shaci Lane, Shapingba District, helping Chongqing further regulate the scripted entertainment industry and market, build a development platform for market entities, and promote high-quality development of the scripted entertainment industry.
In the evening, the Launching Ceremony kicked off in a wonderful performance. At the ceremony, the China Culture & Entertainment Industry Association awarded Chongqing with the title of "Scripted Entertainment Industry Base". Chongqing Municipal Cultural and Tourism Commission awarded Yuzhong District, Jiangbei District, Shapingba District and Jiulongpo District with the title of "Chongqing Scripted Entertainment Industry Development Pilot Districts and Counties", and awarded Longfor Chongqing Paradise Walk with the title of "Municipal Cultural Industry Demonstration Park and Demonstration Base".
Chongqing Culture and Entertainment Industry Association released six scripted entertainment tourism roadmaps in Chongqing, which cover important tourist attractions and business districts in the central city of Chongqing, providing "travel guide" for tourists and Chongqing citizens to experience scripted entertainment.
After the ceremony, 2023 China Scripted Entertainment Industry Festival kicked off. Representatives from relevant units, industry associations, senior experts and key scripted entertainment enterprises from China's provinces and cities gathered together to talk about the future of the industry.
On the same day, 2023 China Scripted Entertainment Industry Annual Meeting was held in Shapingba District. At the annual meeting, the 2022 Scripted Entertainment Industry Development Report ("the Report") was released. According to the Report, the number of scripted entertainment business premises increased by more than 400% annually from 2018 to 2022. In 2022, the number of "Escape Room" and "Murder Mystery Game" stores in Beijing, Shanghai and Chengdu ranked the top three in China, while the number of "Escape Room" stores and of "Murder Mystery Game" stores in Chongqing ranked fourth and eighth respectively in China. (Translated by Wang Zhong, Fathom Language Limited)
Editor:Jiang Yiwei