Chongqing News
This summer tourism route recommended by the Ministry of Agriculture and Rural Affairs
2023-07-10 15:21:40
CHONGQING (CQNEWS) -- The Ministry of Agriculture and Rural Affairs hosts a promotion activity for the 2023 China's Beautiful Countryside Tourism Route (summer) in Jiyuan City, Henan Province, unveiling 53 high-quality tourism routes and 175 top-rated scenic spots. One tourism route for rafting and sightseeing in Chongqing's Banan was included in the list.
Scenic Spot 1: Foyingxia Rafting
With an elevation of 728 meters, Foyingxia Rafting is located in the Foyingxia scenic area in Dengshan Town. The canyon, jungles, and mountains look like the figures of the Buddha, greeting visitors with a beam of welcome. The scenic area offers rafting, canyon crossing, forest adventure, team building, camping, radium battle, and other activities. It is a good place for adventures or leisure.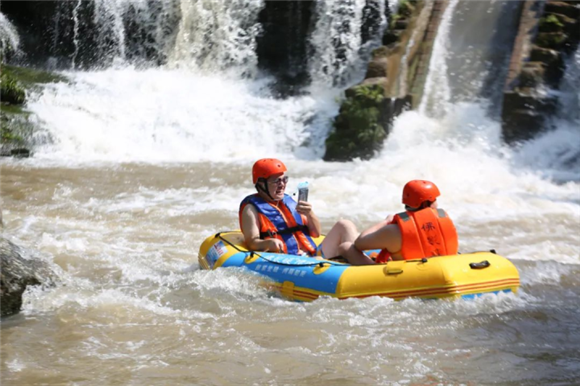 The tourist center has a complete set of supporting facilities, such as a ticket sales hall, a film and TV show hall, rest facilities for tourists, and an ecological parking lot.
Scenic Spot 2: Shengdengshan Forest Park
Located in Shengdengshan Village, Shengdengshan Town, Shengdengshan Forest Park is home to luxuriant vegetation and rare birds. It's famous for its magnificent and amazing natural landscape.
Shengdeng Mountain is a natural botanical garden of plants and animals. There are 120 species of plants on the mountain, including Pinaceae and Taxaceae plants. There are rare species of paniculata fir and ancient trees with an age of more than 500 years. It is a summer resort as well as a good place for fitness. The unique natural landscape can bring tourists an extraordinary mountain climbing experience.
Scenic Spot 3: Wuzhou Park
Wuzhou Park is located 1030 meters above sea level in Lianggang Village, Shengdengshan Town, close to Chongqing-Guizhou Expressway, covering an area of 1028 mu. It is a tourist attraction featuring red maples and integrating ecology, production, tourism, sightseeing, and leisure.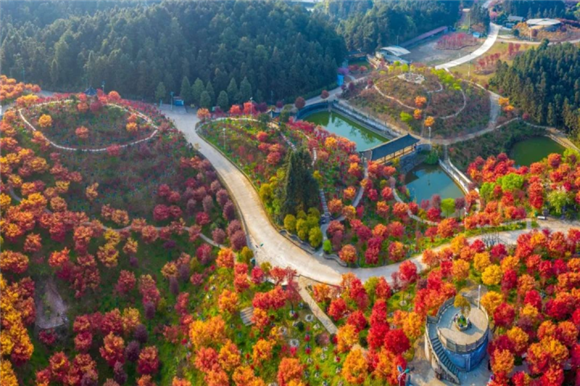 The scenic area houses millions of rare flowers and trees.
You can enjoy natural beauty such as the sea of clouds, sunrise, and sunset in the park. The scenic area also provides characteristic catering service, accommodation, and recreational facilities to offer tourists a relaxing journey. It's convenient to drive there. (Translated by Yuki, Fathom Language Limited)
Editor:Jiang Yiwei