Chongqing News
The best place to take photos with Raffles City Chongqing
2023-08-16 14:09:55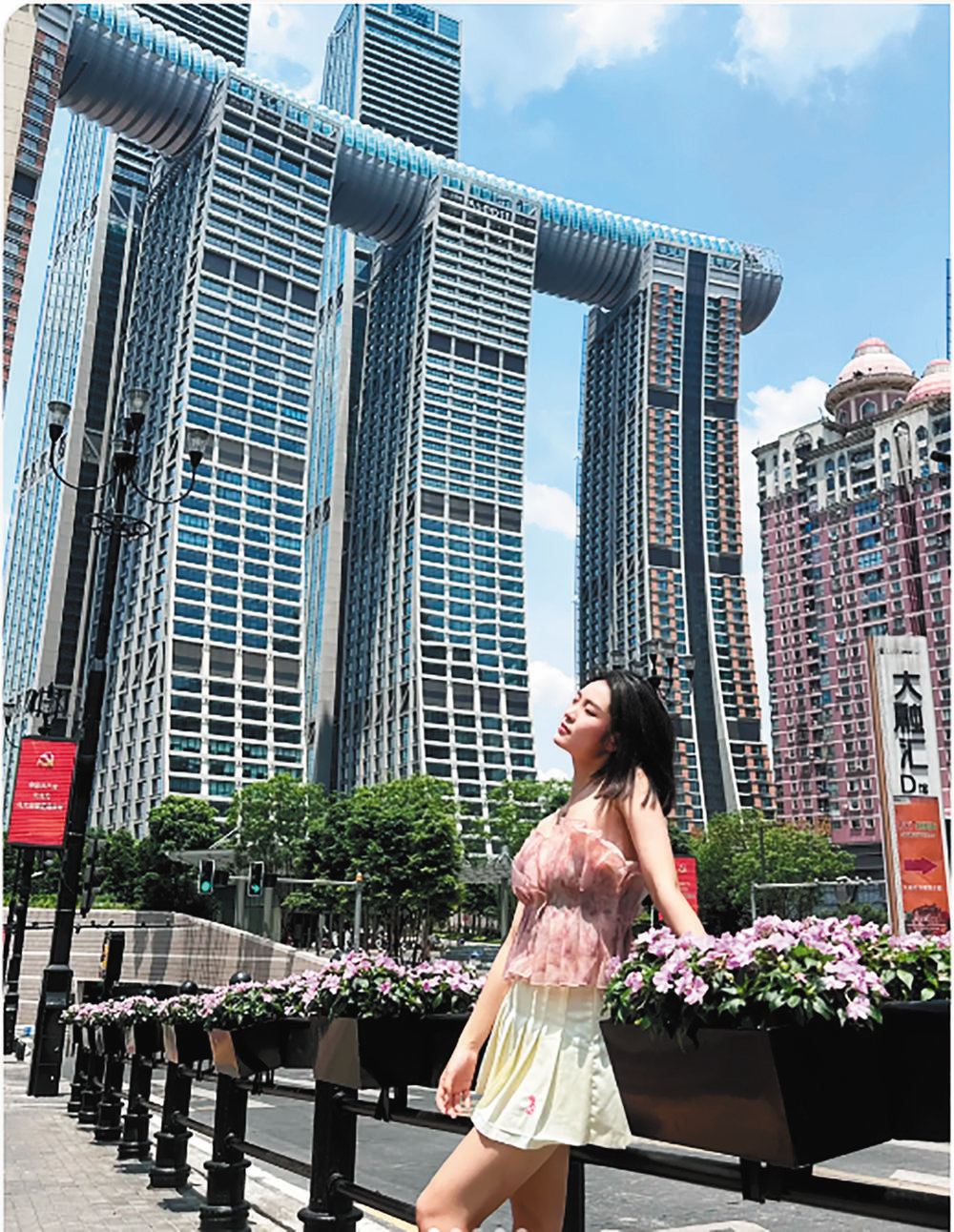 CHONGQING (CQNEWS) -- Following Hongyadong, CRT Liziba Station and other tourist spots, there is another photo spot in Chaotianmen, Yuzhong District, Chongqing Municipality. This newly-aroused photo spot is located at Xinhua Road towards Yuzhong Peninsula, which can be reached from Exit 4 of Chaotianmen Station of CRT Line 1. On social media platforms, many tourists recommend taking photos with Raffles City Chongqing here, which is called by netizens as "the best place to take photos with Raffles City Chongiqng".
Out-of-town tourists carrying their suitcase take photos here
At around 10:00, the reporter made a special trip to the site and saw that there were already many tourists taking photos here. "We just arrived in Chongqing only two hours, and came over here immediately." An out-of-town couple just arriving in Chongqing told the reporter that "before we came to Chongqing, we saw so many tourists taking pictures here on the online platform, and the pictures they took were beautiful, so we came here on our first day in Chongqing."
Like the couple, the reporter met several out-of-town tourists who just arrived in Chongqing and took pictures here. Ms. Zhong from Hefei was also one of the tourists, she has come to Chongqing for a few days, and she came here to take pictures also because that she saw a lot of tourists taking pictures here on the Internet. "It's really very beautiful to take pictures here. It's really a good place to take pictures. There's also a breeze blowing through here, so it's not hot at all," she said.
From 10:00 to 11:30 in the morning, the reporter saw a succession of tourists coming to take pictures here, and it was roughly counted that there were about 30 groups of tourists. The reporter saw some families taking pictures, and even some tourists carrying their suitcase while taking pictures here.
This place was visited last year and has been very popular lately
The reporter also noted that there were four to five photographers taking pictures for tourists with professional cameras at a cost of 10 yuan per photo. Among them, a photographer Chen Jun (a pseudonym) told the reporter that he often took pictures for tourists in various popular sites, and recently this place has been really hot, especially from about 17:00 to 19:00.
"Some tourists came here to take pictures last year, but it is more popular than before and not so many tourists came here last year. With more and more tourists showing photos taken here online, more and more tourists came here to take photos recently." Chen Jun said that the photos taken here had a fashionable and modern style with several buildings of Raffles City Chongqing as the backdrop, which is really photogenic. "There are also a few more photogenic locations near the buiding. For instance, the photo taken from the direction of Shaanxi Road can show another style, and there are many tourists who go to take pictures here," Chen Jun said.
However, this new popular place for taking pictures is located next to a highway, tourists coming here to take pictures usually lean against the guardrail along the highway, so some people are worried about the existence of safety hazards. Chen Jun said: "Behind the guardrail, there is the highway which has a total of four lanes, three of which are to the direction of Shaanxi Road, and one of which is to the direction of Xiaoshizi. This new popular place for taking pictures is close to the lane in the direction of Xiaoshizi where the traffic flow is relatively small, but there are still safety hazards. When we take pictures for tourists, we always remind them to watch out, and not to stretch their head and hands out of the guardrail." (Translated by Liu Hongyan, Fathom Language Limited)
Editor:Jiang Yiwei