Chongqing News
The "most popular" new means of travel in Chongqing in this summer
2023-08-22 15:38:29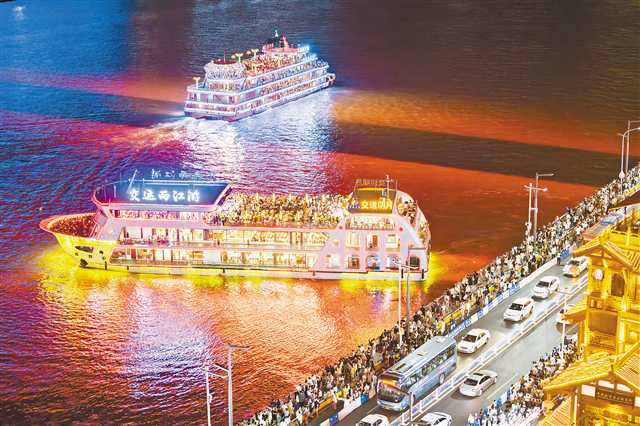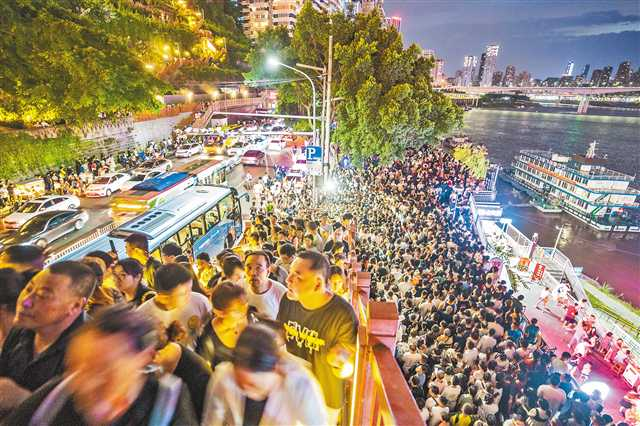 CHONGQING (CQNEWS) -- After the start of autumn this year, the weather is still hot. What is hotter than the weather is the enthusiasm of people to travel.
On the evening of August 18, Hongyadong Scenic Spot was full of bright lights and heavy traffic. "It is so hot this summer! Daily ridership exceeded 100,000 person times, with a growth rate of 40% compared with that of the same period in 2019," said Zhang Qi, Head of the Scenic Spot.
Such a crowded condition is not unique in Hongyadong. In Fairy Mountain, Mexin Wine Town, Ciqikou Ancient Town, etc., there are tens of thousands of tourists catching the "summer tail" to play every day.
How hot is the travel market this summer? According to the interpretation of the Tourism Economic Situation and Summer Consumption Outlook in the First Half of 2023 released by China Tourism Academy, this summer is the "hottest" summer in recent five years, and the number of domestic tourists is expected to reach 1.854 billion from June to August.
After three years of silence, travel has become a necessity this summer. It is worth noting that from the "visiting here" to the diversified "interactive experience tour", the travel preferences and demands of tourists have quietly changed, and new scenes and new gameplay have resulted in new consumption means.
A new means
"Citywalk", which features a "slow pace" and "immersive" experience, is a hit
Following the "special forces style tourism", the "Citywalk", which features a "slow pace" and "immersive" experience in this summer, is a hit, and continues absorbing elements such as cycling, photography, and food, and has derived more and more new scenes of cultural travel.
"From the south bridgehead of the Yangtze River Bridge, riding along Nanbin Road to Danzishi Old Street, I saw the landmark buildings of Chongqing, the intersection of the two rivers, the bright night views, etc., and tasted the authentic Chongqing hot pot, and I have been to several bookstores and coffee bars. I deeply felt the charm of the city." On the evening of August 18, Qiu Zhipeng, a post-00s tourist from Beijing, and his three classmates rode "OFO" bicycle to Nan'an Danzishi Square, and later, their camera memory card was "full" so they had to stop at the roadside and took some more pictures after deleting some ones.
He found out such "Citywalk" route in Chongqing online, and he felt that it was a great ride.
Along Nanbin Road, the reporter saw that there were many young people experiencing the similar "Citywalk" route, they stopped and kept going, looked at the scenery along the river, had street food, and did whatever they wanted freely.
In fact, as a tourism product, "Citywalk" has appeared in Tuniu, Ctrip, Fliggy, Tongcheng and other online tourism platforms before becoming popular.
Looking for special snacks, exploring the secret old street, looking for regional culture, etc., are the popular themes of "Citywalk" on these tourism platforms. Many enthusiasts have posted articles online for looking for a "partner" to walk around the city.
"Citywalk is a way to get back to reality." Luo Zibai, Chief Expert of the Yangtze River Tourism Research Base of China Tourism Academy and Director of Chongqing Tourism Development Research Center, said that different from the "special forces tourism" with a rush and high intensity and photo taking, "Citywalk" allows tourists to walk around the city more casually, immerse themselves in the daily life along the way, or encounter some touching and beautiful scenes; and it's a tourism which meets more psychological needs.
New scenes
Night Market, Music Festival, Food Street and other theme activities become popular scenes for gathering popularity
"In this summer, new scenes and new gameplay stimulating new consumption are good means for many scenic spots and leisure blocks," said Yang Xiaoyong who is the responsible person of Mexin Wine Town.
In this summer, with the theme of "Chongqing Nightlife Festival", the Scenic Spot created a new nightlife market and food street and formed diversified night consumption scenes. Meanwhile, 2023 Chongqing Nightlife Festival Fuling Electronic Music Festival, 2023 Fuling Nightlife Festival "Love in Fuling, Four Seasons Consumption" Golden Autumn Consumption Season and Mexin Wine Town Seventh Chongqing Beer Carnival were held, forming new scenes integrating culture, food, fashion, leisure and entertainment.
"Since June this year, the Scenic Spot has received more than 450,000 tourists, with a growth rate of about 20% over the same period in 2019, of which the nightlife activities attracted more than 150,000 tourists, with a growth rate of about 45% over the same period in 2019," said Yang Xiaoyong.
Music festivals, concerts and other musical performances have also become new "attractions" for tourists. In this summer, Chongqing Happy Valley held HVE Electronic Music Festival, arose the passion of tourists with an amazing stage performance, a cool and technological stage, professional 3D surround sound and high-level lighting equipment, invited popular singers and music groups to take turns on the stage so that tourists can "meet stars every week", and opened Chongqing Happy Valley and Maya Beach Nightlife Activities to create a "summer carnival nightlife" and become a great way to gather people.
Talk shows, drama, stage plays, Livehouse and other niche cultural formats also took advantage of the trend to enrich scenes and meet the diversified needs of consumers so that many performing art spaces in Chongqing are often full of tourists.
"In this summer, the public's tour means is gradually changing from the past sightseeing tour to deep immersion tourism, and the new formats and new tracks of the cultural tourism industry have released a strong new attraction. How to provide more diversified, richer and more distinctive choices in terms of product supply is a problem that needs to be thought about and solved by scenic spots at present," said Luo Zibai. (Translated by Liu Hongyan, Fathom Language Limited)
Editor:Jiang Yiwei