Chongqing News
Over 600-year-old Dongshuimen gates and walls to be repaired this month
2023-09-07 15:01:31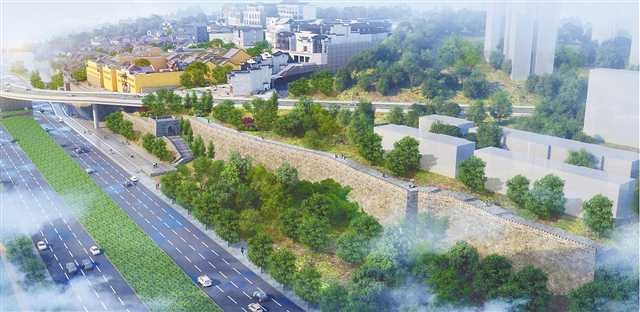 CHONGQING (CQNEWS) -- Residual moss and microbial stains covering stone surfaces are removed with tools such as brushes, bamboo skewers, restorative knives, and rubber suction bulb; and "growth organisms" in the crevices of the stones of the fortified city are removed with hammers, knives, etc.
According to Chongqing Yuzhong Mucheng Cultural Development Co., Ltd., the comprehensive repairing of the over 600-year-old Dongshuimen gates and walls of more than 400 meters will be officially launched this month, to reproduce their appearance in the old days within this year.
Ke Wei, Chairman of the Board of Directors of Chongqing Yuzhong Mucheng Cultural Development Co., Ltd. said that the repair and protection project will maximize the protection of cultural relic's integrity and authenticity, so that it can play a more extensive and lasting role in promoting traditional culture, economic development, social education and so on.
When were Dongshuimen gates and walls built?
Ke Wei introduced that according to historical records, Chongqing Guard Commander Dai Ding built a city with stones, set up 17 gates including nine open gates and eight closed gates, and built walls with a perimeter bout 8,533m on the basis of the old city Pengdaya in 1373. Dongshuimen gates and walls were built at that time.
During the Ming and Qing dynasties, Dongshuimen gates and walls were destroyed several times.
Ke Wei said Dongshuimen gates and walls were lastly repaired 20 years ago. "20 years have passed. Due to the long-term exposure to the natural environment, Dongshuimen gates and walls inevitably suffered ravages again. So after the field trip by cultural relics and architectural experts, they ultimately decided to comprehensively repair Dongshuimen gates and walls again." (Translated by Liu Hongyan, Fathom Language Limited)
Editor:Jiang Yiwei