Chongqing News
Chongqing volunteers help a female tour guide with ALS to fulfill her dream
2023-11-21 14:49:12
CHONGQING (CQNEWS) -- On the afternoon of November 19, Chongqing was bathing in the warm sunlight of early winter.
Many residents went out to enjoy the warm sun. One of them was a woman sitting in a wheelchair that was pushed by volunteers.
The woman is called Liu Jie, a patient with Amyotrophic Lateral Sclerosis (ALS). While other people enjoyed a pleasant weekend in the sun, she was striving to fulfill her dream – revisiting the tourism route she had designed. The 39-year-old woman, who used to be a tour guide, has been fighting with ALS for six years. She wishes to visit the outside world after getting the disease.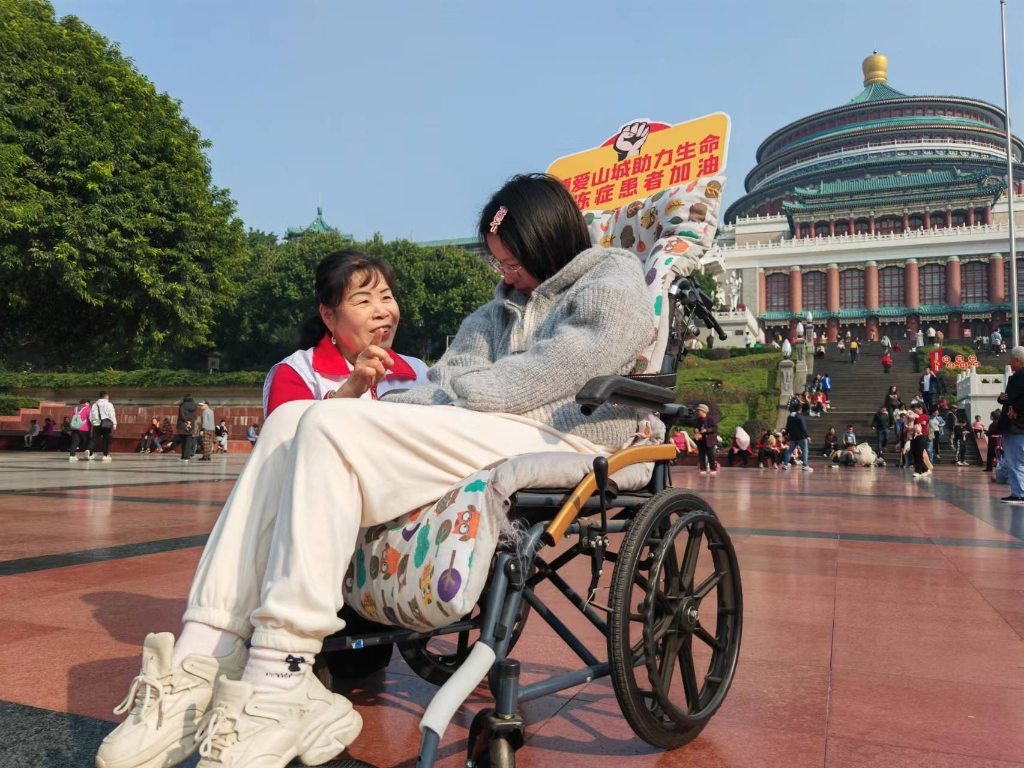 Their first stop in Chongqing is the Chongqing People's Auditorium. Liu Jie appeared slightly distressed as the volunteers carefully lifted her from the car to her wheelchair, but once she reached the square, her face broke into a sweet smile. She looked around curiously. It was the place where she had guided countless tourists. Chen Maoxiu knew that Liu Jie was very excited at the moment.
Chen Maoxiu helped Liu Jie fulfill this dream. In April last year, Liu Jiu asked the Chongqing Red Cross for help, and then Chen Maoxiu and her teammates, the volunteers of the Yubei Red Cross, were sent to learn about the situation.
Chen Maoxiu recalled that when she first met Liu Jie, her father was picking her up from her bed and putting her in a wheelchair. At that time, Liu Jie could still move her hands and write on her mobile phone to communicate with others. Chen Maoxiu told Liu Jie at the time, "We walked into your home today, and you walked into our hearts." Then, a journey to fulfill her dream began.
Liu Jie used to be a very outstanding tour guide, but she hasn't left the house in recent years since she got ALS. When she saw the changes in Chongqing on social media platforms, she hoped to visit Chongqing, Unluckily, her illness got worse. This September, she could no longer move her hands. She could only communicate with others using the Accessible Input Method – typing on the computer by rotating her eyeballs.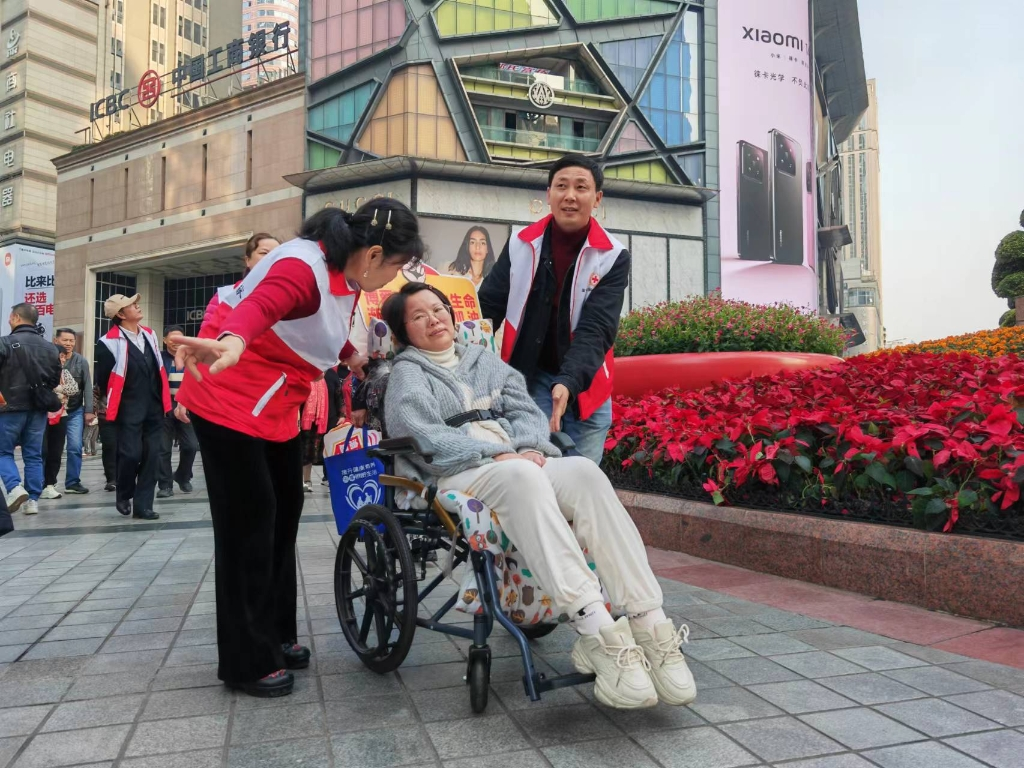 After knowing Liu Jie's wish, Chen Maoxiu decided to help her realize this dream. Chen Maoxiu asked for help from a caring enterprise that often entrusts volunteer service teams to help people in need. The enterprise arranged two cars for them. Accompanied by the volunteers from the Yubei Red Cross, Liu Jie started a visit to Chongqing and was encouraged to face the challenge bravely.
From Chongqing People's Auditorium, Jiefangbei to Nanbin Road and Jiangtan Park, Liu Jie completed a 'long-distance' journey with the help of volunteers.
When Liu Jiu looked at the intersection of the two rivers on Nanbin Road, Liu Jie smiled. Chen Maoxiu said she had never seen Liu smile so brightly in the past year. (Translated by Yuki, Fathom Language Limited)
Editor:Jiang Yiwei